Dear Friends,
Eighteen months ago I made the decision that my practice had grown to the point that I needed to hire an associate doctor to ensure that I could continue to meet my goal of providing excellent orthodontic treatment, in a timely manner, with the best customer service possible. As you know, that decision prompted me to hire Dr Luke Bailey to join our staff. When I hired Luke I knew that he and his family would be moving home to Coppell when his wife finished her psychiatric residency at Baylor College of Medicine. It is hard to believe that Dr Bailey has already been with us 15 months and that the time has come for the Baileys to make their move to Coppell.
We have thoroughly enjoyed having Dr Bailey in our office and we will miss him for sure. His positive attitude and vibrant personality made him a real joy to be around and big asset to our staff. I know you join me in an enthusiastic best wishes for the Baileys and a fond farewell. Dr Bailey will be buying a practice in Coppell and his wife, Kayla, will begin her practice there as well. I am certain they will be very successful.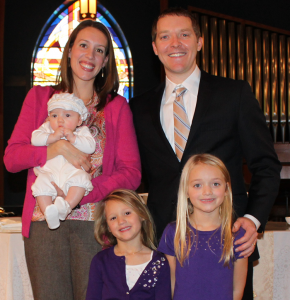 The last 15 months proved that having an associate in the office definitely helps me provide the high level of treatment and service that you deserve. Therefore, I would like for you to share in my excitement as I announce the addition of Dr Ross Hunter as my new associate. Ross hails from Midland, Texas and graduated Summa Cum Laude with Highest Honors from The University of Texas, Austin. He also graduated Summa Cum Laude from Arizona State University with a Masters of Science in Biomechanics. He then received his DDS degree from the University of Texas Dental School, graduating in the top 5% of his class and was inducted into the Omicron Kappa Upsilon Dental Honor Society. He also received the prestigious Fauchard Academy academic achievement scholarship. Finally, Ross received his Masters of Science in Orthodontics from the University of North Carolina, Chapel Hill, School of Dentistry.
Dr Hunter is very personable and, as you can see from his resume, very bright. I feel fortunate to have found him to fill this role. Ross is married to Jennifer and they are proud parents three beautiful children; Julia, Natalie and Dean. They plan to make their home in the Sugarland area. Ross will join us July 1st and I look forward to introducing him to you at your next visit.
Please be assured that I have no plans to retire or slow down for at least 14 years and probably longer. I will continue to see all new patients, design all treatment plans and direct all treatment progress.
I want to thank you for being part of my "orthodontic family" and for the confidence you have shown in me and the support you have given my practice. The wonderful relationships I have been fortunate to build with my patients and their families are what I cherish most about my job. I look forward to many more years of practice and will continue to work hard to earn your trust and friendship as well as the trust of all the families yet to come.
Warmest Regards,
Mike Mizell